For some time now designers have been pushing the colour white to the masses, from Helmut Lang, Celine,  Margiela, to Jil Sander, and even Rick Owens. Despite staying out of most fashion trends, a broad trend movement like colours can be difficult to avoid. Yours truly have fallen trap to this white-out trend and frankly I am not the least bit ashamed about it. I would happily do the same if it had been grey, stone, oxblood or mud. I thought I'd share some beautiful white pieces within our preferred aesthetics, guaranteed to look amazing in the snow.
$150 and under
– for the times when we barely have enough to even buy ramen for sustenance. Screw food, have swag instead.

1. Religion Clothing cardigan £90
2. La Kore dress $148
3. Ann Demeulemeester dress $135
4. Lupatelli cardigan $89
5. Mango draped maxi-skirt £34.99
6. Es'givien turtleneck dress $95
7. Helmut Lang cowl neck tee $149
8. Asos airtex draped dress £36.50


$150-$250 – I don't know about you but I have a hard time finding pieces that fall between affordable and luxury.
1. Aqua Maple kimono dress £130
2. Kimberly Ovitz Morris dress $165
3. Unconditional asymmetric top $175.50
4. Coming soon turtleneck dress $198
5. Kaos cardigan $158
6. Rick Owens cardigan $248


$$$$$$ – For the times when money falls from the sky, or grow from trees in our backyard, or the day we've become semi-transcendent beings who no longer need food nor water for sustenance.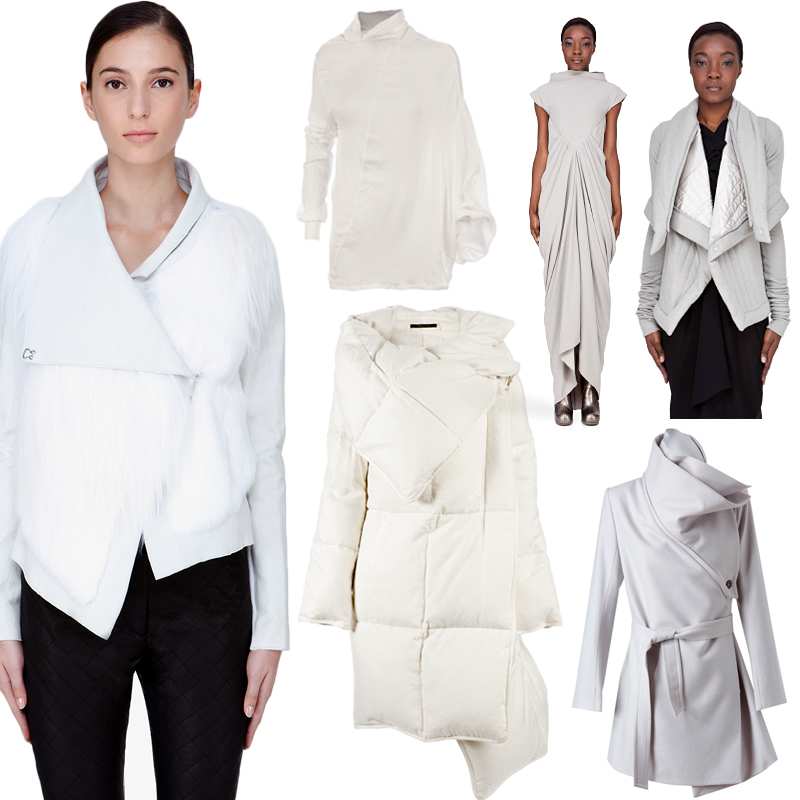 1. Helmut Lang rabbit trim leather jacket $1895
2. Ann Demeulemeester asymmetric draped blouse $402
3. Rick Owens draped maxi dress $1350
4. Rick Owens Lilies wool jacket $1775
5. Margiela blanket coat $1301
6. Ann Demeulemeester wrap coat $1924