6. What was going on with Rick?
Rick Owens never ceases to amaze me, sometimes in very appalling ways. When he's not producing the most awesome clothes, he leaves me passionately infuriated. I suppose that has always been the attraction of Rick to me, in that he never leaves me indifferent, because I know deep down inside I will always stick around for his vision.

This particular SS13 collection left me rather conflicted for two reasons. One being the choice of material, and the other being the narrative that I, as an audience, was receiving. If I could sum up the former, it would be cheap-looking, and the latter, subservience, neither of which is how I like my Rick Owens. There was too much sheen and transparency in some of the garments, which made the clothes look less ethereal and more like candy wrappers. Secondly, the entire presentation, from the hair to makeup to the garments and their colour scheme, portrayed obedience, as if they were girls of lowly positions who served the High Priestesses of the previous collections. There is no chaos nor excitement, but instead it has been replaced with a cold sense of orderliness that is expected from subjects of plebeian rank.

To sum it up, despite some redeeming qualities, this Rick collection made it to the list because I feel so strongly against it.


5. Hedi Slimane kerffaffle
So yes, anyone who hasn't been living under the fashion rock would have heard about the childish Slimane's tirade against Cathy Horyn. Personally I love catty fashion drama, as long as it doesn't involve me *rawr*, but most of all I was rather appalled at the sense of entitlement this revered so-called fashion maverick was exhibiting all over the Internet, as if he was the king of the playground. And all this after failing to update his skinny rocker chick shtick which has been done to death by Topshop/Topman. I can't believe Stefano Pilati, who by the way had been doing a good job at YSL, has been replaced by this prick who set the house back four decades (no offense to Slimane fans).

All I can say is, Slimane should lay off his Iphone and concentrate on his sketchbook instead.
4. Gareth Pugh's brides
So having spent some time looking through Gareth Pugh's collections, I have come to the conclusion that they resemble bridal gowns, and the veils further reinforced that image. Granted the girls are not just anyone's brides, they are probably more suited to marrying Count Dracula or some dude aptly named Lord Vladimir Vampir or something (or Countess/Lady if that's your cup of tea).

I can't say I am a massive fan of the entire collection as the flared sleeves and corsets were too medieval, but he has shown great finesse in technical constructions such as the shredded dress (which was the highlight of Katie Shillingford's wedding dress); the stiff, geisha-like collar, and the draped cape-gown hybrid. If I were to sum up the entire collection in two words, it would be Oriental Transylvania. And what's not to like about that?


3. Rei Kawakubo's toile vomit
Continuing on last season's theme of volume, Rei Kawakubo has once again gone all out to turn our perception of beauty upside down. This SS13 show reminded me of her lumps and bumps collection, but less awkward and incidentally, more wearable (well in my books anyway). Her concept of using discarded muslin toiles has a touch of irony, much like the old Margiela, but I was far more intrigued by the sophistication of the pattern making and craftsmanship. To most uninformed audience, this would look like a middle school art project, something they'll say they could DIY themselves. While I used to get into a fit of rage over statements like this, I've now learnt to use it as a litmus test to distance myself from the ignoramuses.
2. Haider Ackermann's army 
Haider Ackermann has always been a designer who can do no wrong in my eyes. In saying that, I have never been compelled to go out of my way to attain his clothes, unlike Gareth Pugh, despite the latter being a lot more inaccessible. The problem is that Haider's beautiful overlays and drapes do not translate well in everyday wear, because most of them were pretty much loosey jangley yards of cloths that constantly threaten to expose the most inappropriate parts of your body while you're going about with your chores.
Well it seemed that he has listened to the grievances of his fans since the last season, and this latest one, while at the same time still retaining that melancholic, reserved aggressiveness that would easily rival that of Ann's. His tailoring keeps improving by leaps and bounds, and his draping now much more disciplined. The SS13 show was so beautiful I swear my reaction was almost as dramatic as
this
. He showed women who are powerful but not obnoxious, serene but with a hint of naughtiness. All in all he makes me proud to be a member of the fairer sex.
Seeing how much the show almost moved me to tears, I had no choice but to make it my favourite out of the entire season, hence it sits at the number two spot on this list.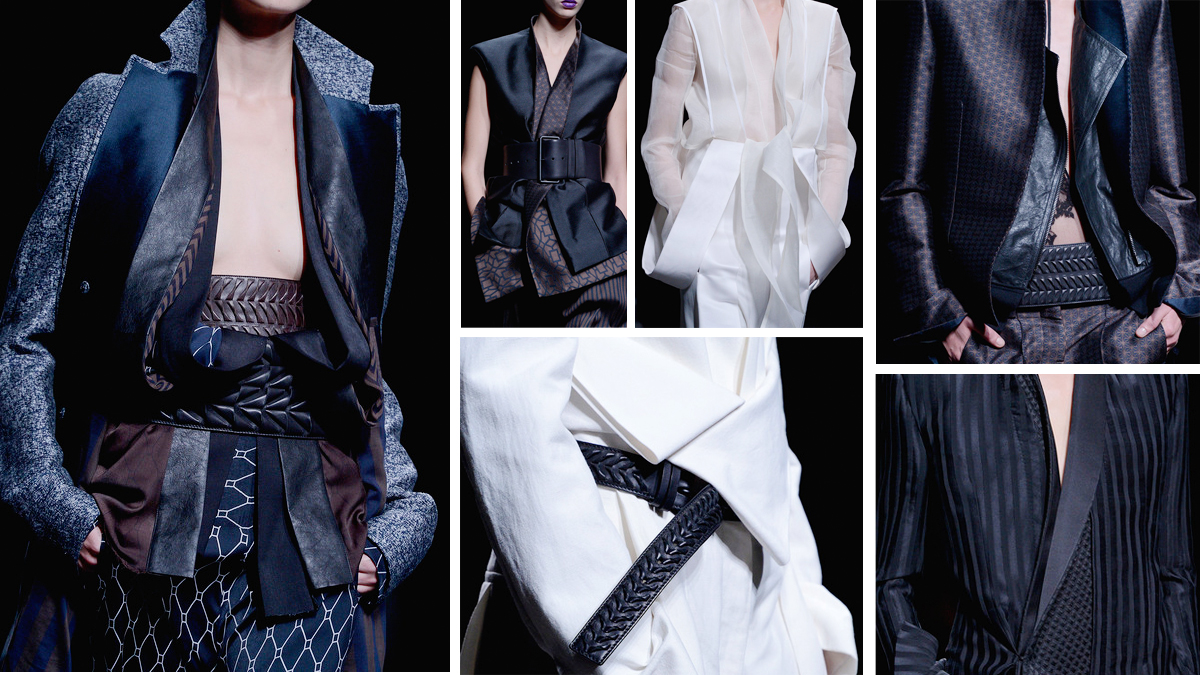 1. Comme des Garcons off the runway 
Before fashion week began I thought that the most popular item we would be seeing on the muster of peacocks was the Givenchy knee-high boots. Boy I couldn't be more wrong. Who knew that their go-to statement piece would be Comme des Garcon's felt coats? For the first time I was actually rather happy to scroll through Tommy Ton's and Phil Oh's slideshows as the fashion goers were actually embracing the fun side of fashion over the usual 'classy' suspects.

Because there's hardly greater enjoyment than seeing outrageous pieces being worn off the runway, the slew of Comme des Garcons coats paraded all over Paris made the entire season memorable, sending it straight to number one on the list.